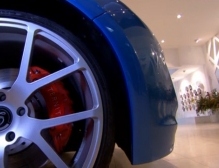 ETERNITI BRINGS CAR MANUFACTURING BACK TO LONDON
15th November 2012
The BBC have featured Eterniti Motors in story about car manufacture in Britain, quote:
"Cars are once again being manufactured in London, although you probably will never see any of the vehicles on the capital's roads. Luxury sports cars are now being built at the Park Royal Industrial site in west London before being shipped to wealthy customers in China.
Eterniti head engineer Alastair MacQueen and sales manager Andrew Brown talk about why London's car manufacturing heritage and image abroad are so important."
Follow the link to watch the video:
http://www.bbc.co.uk/news/uk-england-london-20275737