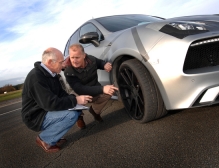 JOHNNY HERBERT HELPS ACCELERATE TEST PROGRAMME
10th January 2012
Following the unveiling of a prototype of its first car, a luxury SUV, at the Frankfurt auto show in September, Eterniti Motors has been hard at work developing and testing the vehicle.
The company is concentrating on the springs, dampers, anti-roll bars, wheels, tyres, ride heights and engine tune and exhaust system, and the programme is now benefiting from the input of former F1 driver Johnny Herbert. Herbert was so impressed with handling and grip on first driving the car at a proving ground that he decided to try it on a kart track at the facility.
"I couldn't believe how quickly it got round considering its size," he says. The steering has great feedback, and there's definitely more to come in terms of handling. Coming from a motor sport background we have the ability to develop the car quickly. Alastair [Macqueen, Head of Engineering] and the team have done a great job so far"
Macqueen, who previously worked with Herbert at Eddie Jordan Racing and Bentley, where he won one of his three Le Mans victories, says, "Testing is ongoing but so far we have been very pleased by the dynamics achieved, particularly the turn-in, grip and traction, steering and overall balance, particularly as comfort levels remain good."
Eterniti is also working on the final exterior design, which will be substantially different from the Frankfurt prototype on which the test vehicles are based, and also the interior. The definitive production car will be formally launched in April at Auto China 2012 in Beijing.